| | |
| --- | --- |
| Posted on May 5, 2014 at 10:00 PM | |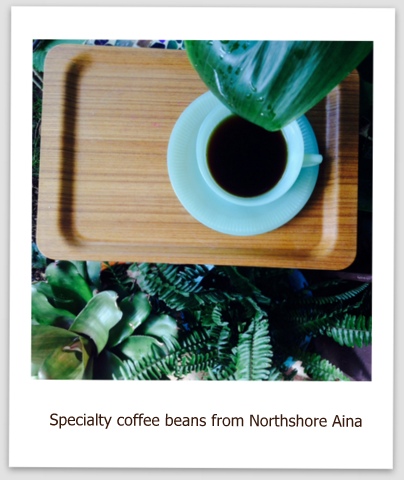 Coffee break with Northshore Aina coffee which specialty coffee beans from Northshore Aina.
I think if you like coffee, you should try this.  it's pretty smooth but deep taste.  Especialy it's fitting to hawaii's weather and water, too.
I got "SUNSET" Medium roast and "PANIOLO" dark roast.
and She said Paniolo is most poluar blend.
Anyway Yuko who owner of  Northshore Aina  has such peaceful smile like a sunshine.
Arigato, Yuko san.
I am enjoying smooth coffee with your smile
For local or pick up at northshore >> contact to Yuko  northshoreaina@gmail.com
日本への発送もされています。詳しくはコチラ Northshore Aina
人気なのはPanioloだそうです~
Yukoさんに先週はじめてグリーンルームハワイのレセプションでお会いした時のことや、バッグのことなど彼女のブログで素敵にご紹介いただき,恐縮です。コチラ>
ありがとうございます♡
そして、オアフ島ノースショアのことなら、彼女のウェブサイトは旬な情報が満載です!
アロハストリートのハワイ在住者ブログはコチラからどうぞ

Categories: Hawai'i Life, SOHO, Other