| | |
| --- | --- |
| Posted on April 24, 2012 at 2:40 AM | |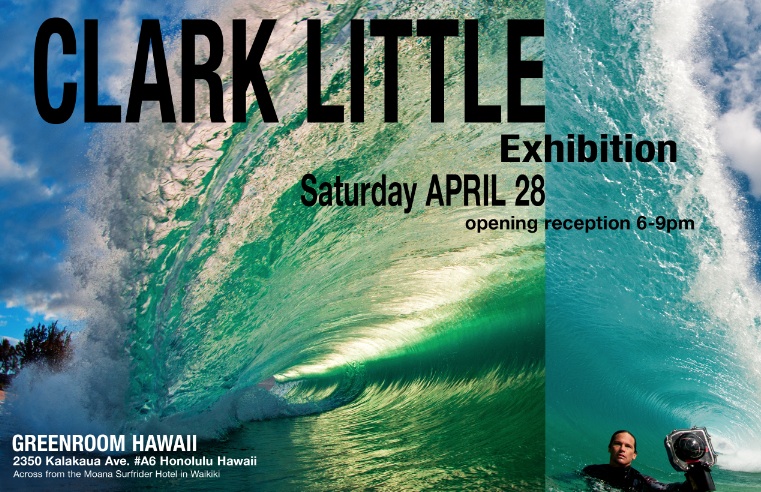 VISIT to GREEN ROOM HAWAI`I Gallery at WAIKIKI this weekend (on 28th April )
2nd Aniversary for greenroom Hawaii. They will have "CLARK LITTELE Art exhibition"
here`s special information at Event . Meet to Clark Little and watch his movie from 5PM. 
(YOU MUST MAKE A RESEVATION FOR THE SEATS. contact for info@greenroomhawaii.com or call 808-924-4404 )
Door is Open for everybody After Movie show 
More Infomation at www.greenroomhawaii.com
 "Waikiki Spam Jam" will be starting 4pm to 10pm on the Kalakaua Ave ...That`s mean road will be cloesed!
今週末はワイキキのグリーンルームハワイ ギャラリーの2周年イベント。
ノースショア在住、フォトグラファーのクラークリトル氏を招いてのArt Exhibitionが同時開催。
クラークリトルの作品はハワイだとショールームやフォーシーズンズホテルなどの公共スペースでも見かけた方も多いかと思います。
昨年はベスト水中フォトグラファーにも選ばれたクラークリトル。
ハワイ滞在中の方、在住の方ツアーで今大忙しのクラークに会えるチャンスです。
ちなみに展示会ドアオープンは6時となっていますが、
急遽28日5時より予約のみでの入場可能なクラークリトルの映画上映。
ご希望の方は席も限られていますので、グリーンルームハワイへ是非予約のお問い合わせを~!
予約は日本語または英語で info@greenroomhawaii.comまたは808-924-4404まで。
なお、イベントの28日4-10pmはワイキキスパムジャムでワイキキのメイン通り、カラカウアは歩行者天国☆
盛り沢山なワイキキになりそうですね♪
ハワイ在住者ブログランキングにいます。
クリックしてそちらもぜひ覗いてみてね↓↓

Categories: Hawai'i Life, Events, Shop